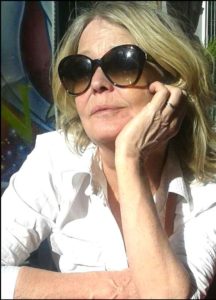 Sue Brelade is an artist and author living on the South Coast of England.
"Art has always been my way of returning to myself, of remembering who I am wherever I may be and whatever I may be doing."
Emotions are subjectively known yet universally acknowledged. Sue's art is a product of realising those emotions in a physical form. She finds the malleable nature of clay a perfect medium.
Sometimes the forms are softer, other times like staccato notes. The neutral colours, with which she hand-paints her bisque fired clay sculptures, preserve the purity of line and thought.
The themes remain the same, of love and loss, of joy and despair, of the various emotions we all experience as part of being alive in a complex and social world. Intensely personal and universal.
Her paintings range from the traditional to the abstract. A recurring theme is a narrative of the feminine in unobserved moments, a woman's perspective on women which the canvas invites us to share.
Sue is a graduate and holds a masters degree in philosophy. She was Chair of Trustees for the Folkestone Art Society for 5 years. Sue has exhibited in London and Folkestone and sold work both in the UK and abroad.
She is co-author of a number of books and articles on management topics and has recenlty published her first children's book "Hope Benedict and the Missing Children." (clicking the link opens a new tab)
Sue Brelade BA MA Dip(Mgt) FCIPD AIL