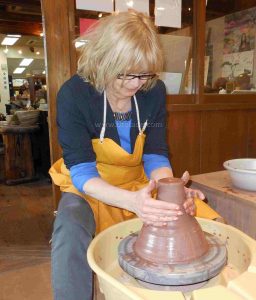 Sue Brelade is an artist living on the South Coast of England. In her former life she has been an actress, a singer, an author, a teacher and a business person. She has delivered boats in the Mediterranean, taught in an inner London School, been a key note speaker at a United Nations Conference and successfully managed her own management consultancy business.
"Art has always been my way of returning to myself, of remembering who I am wherever I may be and whatever I may be doing."
Sue holds a masters degree in philosophy, is a Fellow of the Chartered Institute of Personnel and Development and an Associate Member of the Chartered Institute of Linguists. She has lived and worked in Spain, Norway and France as well as the UK and has served five years as Chair of Trustees for the Folkestone Art Society (registered charity no. 1161336).
"In art I always see myself as a beginner, learning new things every time I hold a paint-brush or feel the clay between my fingers. I am never quite sure where things will go or how they will turn out, but eventually they get there – wherever 'there' is."
If you are interested in seeing a sample of management publications by Sue Brelade, please click on the links below (the links will take you to third party websites and will open in a new tab). To see artwork click here.
United Nations Public Administration Network